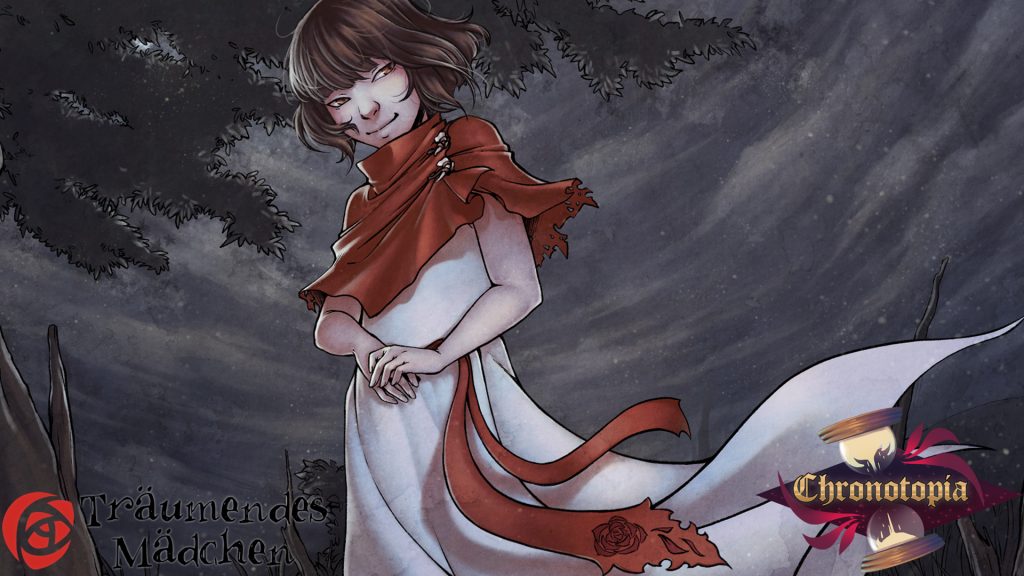 It's been a while since I've talked about Chronotopia, isn't it? I must admit it's hard to keep the devblog up to date when I'm doing so many things at the same time. Plus, monthly Kickstarter updates work in a very similar fashion so it feels like repeating the same things twice. I'm starting to think I should make posts about specific themes. It would be more interesting that way, don't you think?
Welcome to Clairmont's residence
Anyway, if you're here to learn about Chronotopia's progress, you're in the right place! Since it can be hard to keep track of everything, here's a little sheet.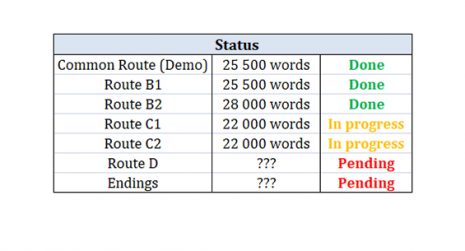 As you can see, we're done with developping both the B1 and B2 routes (or almost done, there's still a little bit of translation left and all of editing), which roughly means that 1/3 of the game is ready. Since then we've switched over to C1 and C2 (which kinda work as a package for spoilery reasons) and we're already about 60% done art-wise. Luckily for us, those two are shorter than the previous ones so we shouldn't take as much time!
In the C1 and C2 routes, the princess will actually travel further away from her castle and bump almost immediately into the second prince you can encounter in the story: Thalie. Just like Griselde, he looks handsome and charming. And just like Griselde, one has to wonder if he has any weakness at all~ He claims he wants to protect you but doesn't it sound almost too good to be true? As an aside, you may remember his outfit: it was one of the designs suggested by Anako for the previous prince. I thought it would fit Thalie better so she adapted it a bit for him. Isn't that cape kind of cool? Sorry Griselde, your subliminal dagger is rather ridiculous in comparison.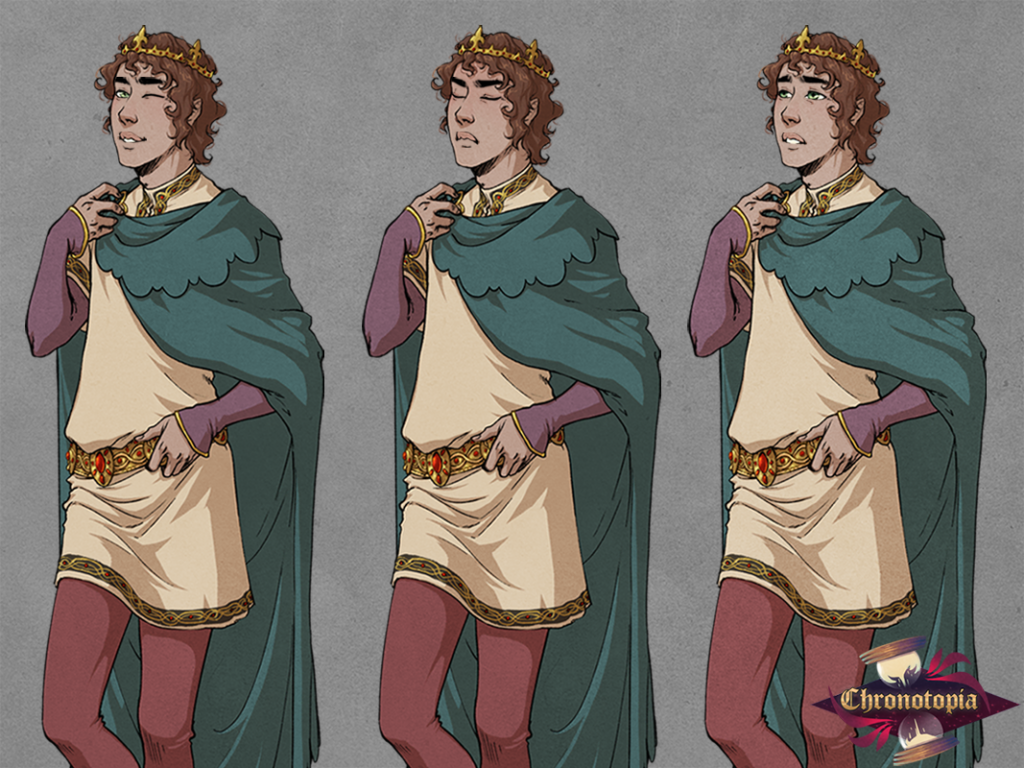 Whenever there's a new part of the story, there has to be new backgrounds! Be ready for a treat because PyriteKite is outdoing herself once again: Kionna will get to visit Clairmont, one of Thalie's secondary residences and it's a rather fancy one. Unlike previous routes, the new ones won't only take place in the warm season so you're going to see the passage of time more clearly. That's why on top of the traditional variations (day, twilight and night), some backgrounds will also include seasonal variations, each with its specific little animation.
A new character art process
If you missed our Kickstarter updates, I'd like to remind you of a big change that happened a few months ago: I've hired Adirosa as an assistant artist to help Anako with character art! Since she has to take care of the majority of the game assets by herself and is also quite busy, our pace is rather slow and that's not very good if we want to release the game eventually (and we do!). I don't think I need to introduce Adirosa anymore: we've already worked on several projects together (like Wounded by Words or Khzi and the Cursed Stone) after all.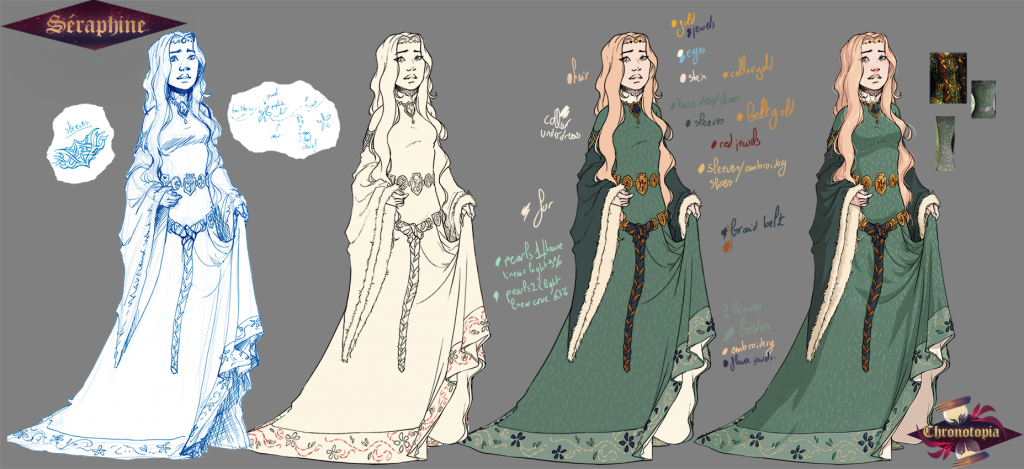 Since then we've been experimenting new organizations to become as efficient as possible. Here's our first try with Séraphine (I unfortunately cannot talk about that character as it would be spoilers): Adirosa did the flat colors (step3) and Anako took care of the rest.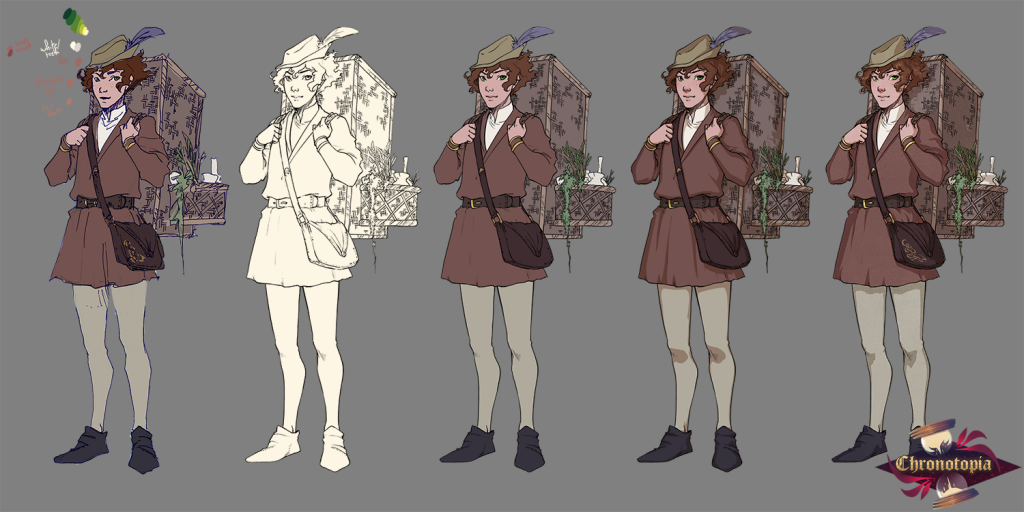 We've made a different try with Georges, a young man who's travelling the world as a peddler. He will appear in several routes of Chronotopia and become a precious source of information for Kionna. This time Anako did the first two steps (sketch then inking) as well as the finishing touches and corrections (the last one) while Adirosa did flat colors and shading. In both cases, there is no visible difference compared to other sprites and their styles merge rather well together so it's encouraging! We'll see how far we can go but it should help us make the whole process more fluid and, well, faster.
BTW, when is the game coming out?
It's been one year since Chronotopia's Kickstarter and we still have a long way to go. I cannot give a precise release date yet as we've fallen behind my original estimations. We do have an internal deadline though and I should be able to judge more accurately around January so that's something to look forward to. In any case, Chronotopia will come out sometime in 2018, or at least we'll do our best to make this a reality. I'm very grateful for your patience and I hope the final game will be up to your expectations!