It's been a while since the end of the Kickstarter so I thought it would be appropriate to share what we've been up to since then.
Putting the short VNs on Steam
Firstly, I want to thank all the people who participated in the survey we posted on last article. The answers we got were pretty clear: an overwhelming number of people seem to want to play our hobbyist games on Steam and, by majority, that they'll be released one at a time. So that's what we're going to do!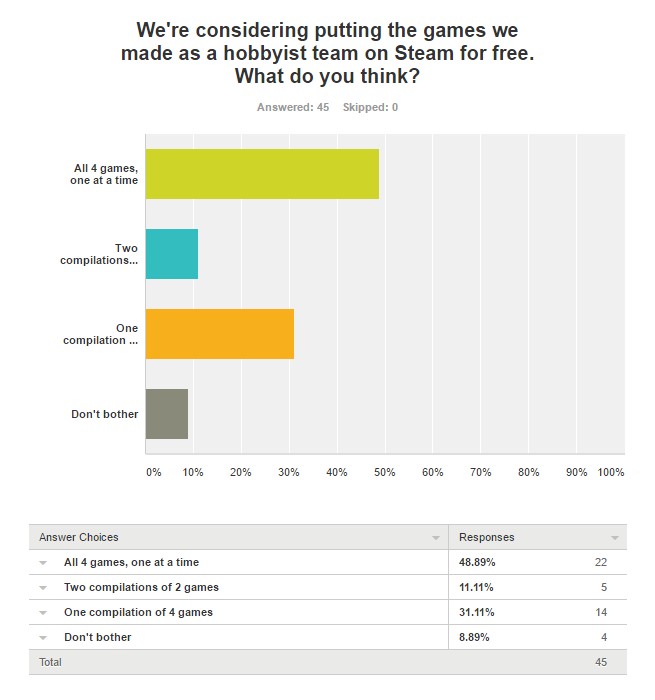 However, having thought about it, I've decided that Being Beauteous won't be part of the batch as it's a kinetic novel (which are rarely well received on Steam) and way too short to stand up on its own (you can read it in 12 min at most). I'm also thinking about redoing some of Ambre's assets for the occasion as it's one of our oldest visual novel. I'll contact Melow, who's the main artist, to ask for her opinion and I'll keep you up to date either way.
Current progress on Chronotopia
Now, the part you've been waiting for: some new about Chronotopia's production! We've received Kickstarter funds and Anako and PyriteKite immediately started working on the new assets while I've been writing the rest of the story.
I've barely touched on that subject before but Chronotopia has a very peculiar structure that consists in a rather long introduction (which can be considered the "common route") and a turning point where Donkeyskin has to choose how she will escape from her father. If you played the demo, you can't miss it since it's the last choice. In the full version, you'll be able to opt for various strategies, each one corresponding to a "route". All those routes have varying length and focus on different themes.
I've already finished writing the first one (I code-named it B1) which takes place in the countryside: Donkeyskin flees to escape the yoke of her father and ends up being taken in by a young farmer named Fleur and her family. Despite her slender look, she's very resourceful and has quite a strong character, so she's not to be underestimated! Since farmers are subject to seasons, this route appears relatively linear, though there are still choices. There's also just as much content as in the demo itself…if not more: the demo represents 23 500 words and the B1 route 25 600 words.
Next time, I'll talk about B2 which is a huge contrast to B1 since I'm trying to make each route feel unique to have Kionna experiment all kinds of things in her journey. I hope you're looking forward to discover what we're preparing =).