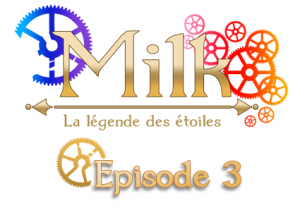 Six months after the previous one, here's the newest part of the story. With 100% more alien madness !
If the first two Episodes were finished in a rather chaotic fashion, this one went surprisingly well : artists were all available (which is rare), Orties was as fast as a human being can possibly be (her secret is tea, so it seems) making many assets in a go, and the French version was ready for the convention we attended this summer. So, apart for some remaining bugs and some work on the English translation, there wasn't much to do after. Also, this Episode is a little bit on the short side because I have to save energy for the big scenes happening in Episode 4, but I can't say more!
In this Episode, Khzi's mission gets complicated as the High Priest heading the church wants her companions dead or alive! Will she be able to retrieve the meteorite's fragments while protecting the slave she took in on the way? You'll find out soon ;).
For the moment, enjoy Milk ~La légende des étoiles. We've decided to put the game on Gumroad as well, because it allows us to make updates. So, every time an Episode comes out (every six months, as planned), you'll receive an email. Pretty cool, hun ?
You can still follow our updates regularly on Facebook, Twitter and Tumblr. Like the game ? Hate it ? Give us your feedback, it will be much appreciated =). And stay tuned because we have something reaaaaaaally cool to tell you later this week !