By now, you should be more familiar with Nahima, who is Kionna's trusted companion in Chronotopia: Second Skin and is featured quite a lot in the demo.
Minor spoilers ahead: the theme of Nahima's route is revealed.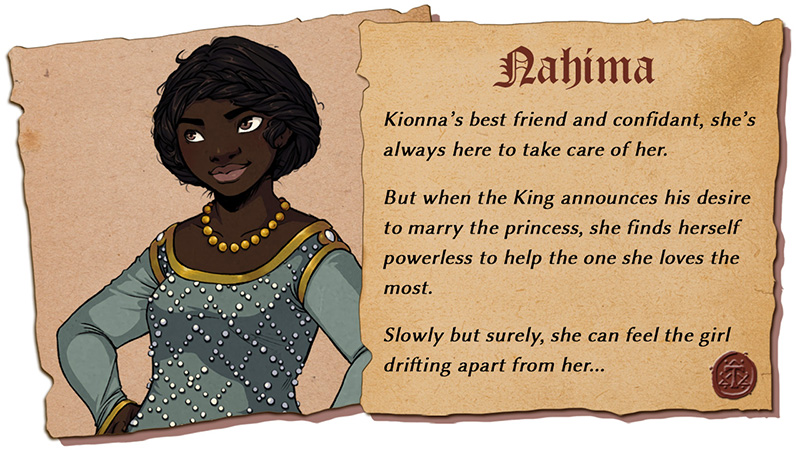 If you've read the original fairytale, you probably know that there is no friend the Donkeyskin's heroine can rely on in it. So why did I create a brand new character? Nahima actually serves as a contrast to the fairy. In Perrault's version, the latter is the one giving very bad advices to the princess when she suggests she should ask for the magical dresses, then the infamous skin. And it didn't quite fit with an ancient being with god-like powers. I thought it would be hard to take the fairy seriously if she was that incompetent.
That's why Nahima now fulfills that role: she's only trying to help her friend with her limited human understanding of the world which makes the failing of her strategy way more believable and her concern more genuine. She's kind of a "temporary godmother", if you will. And I think Nahima goes well with the rest of the medieval setting: it makes more sense for the princess to have friends, after all.
I could have left her like that but then she wouldn't have a role anymore after the demo. Instead I decided to make that contrast key to her character. Nahima makes Kionna's exile more painful because she has something of value to leave behind, it adds stakes to her journey and constantly haunts her.
And that's the whole theme of their relationship: to be able to escape fate, Kionna has to grow and become a better person. But the more she changes, the more she becomes a stranger to Nahima. And the latter is very much aware of that situation but is powerless to avoid it, growing more and more frustrated in the process. That's the tension at play throughout the story: Nahima represents the past, a comfortable bubble, the known and safe. But to save herself, Kionna has to leave the past behind and with it her only friend…in the hope that they can start anew before it's too late.
Of course, the result is different depending on the ending you get and how central you want her to be in the princess' life. You can mend their relationship, go for romance, or just let it fall apart~