Truly, things happen to me all the time! Back from Japan Expo, my laptop suddenly failed me, which puts me in a difficult position to finish Chronotopia's demo (here's a summary of everything we have so far) and launch the Kickstarter campaign. However, there is no way I'm going to take forced vacations, I will do my best to minimize the damage. I will simply be even slower than usual to reply to messages and I apologize in advance for that X).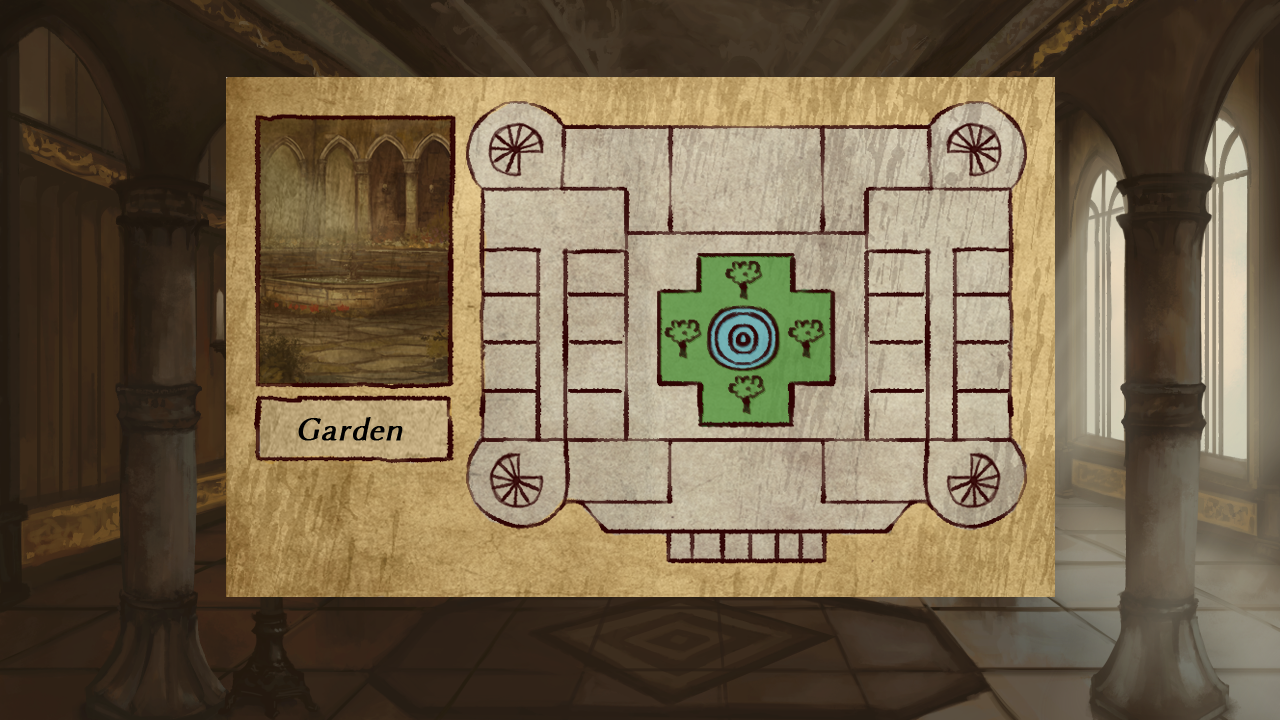 The castle's map showing one of the available locations
The good new is that we have never been closer to our goal!
Anako is currently putting the finishing touches on the princess' sprite (the toughest of them all), as well as the male domestic, and there will only be the last CG to do. For her part, Melow only has one illlustration remaining and some minor GUI elements.
Music-wise, ButterflyTea is working on the second to last track which is turning out very nicely. And the traduction finally reached 100%, with 90% edited and integrated into the game.
Most of the work left to do is actually related to code: there are many bugs to fix and, above all, the integration of the 3D camera (that I've shortly introduced on social networks). It's a RenPy plugin that mainly allows you to zoom on pictures and make them rotate to create more dynamic shots. Insofar as a visual novel is inherently quite static when it comes to presentation, I really wanted to try something slightly different. The main issue is that finding the right coordinates to make those shots is in fact extremely time-consuming and the demo itself is already quite solid (I'd say between 1 and 2h of reading at least).
Here's an example amongst others of the potential use of the 3D camera
So I'm thinking about making available on my Patreon a version of the demo that won't include all the finished shots (the presentation will be a little more traditional) in order to get some early feedbacks. I will then update it with the 3D camera and this version will be the one available upon the Kickstarter campaign.
Thanks to all of you for supporting us, I really can't wait to show you our work and I hope you will like it!