As I mentioned last time, Chronotopia: Second Skin is divided in several routes, each corresponding to a different strategy to escape the castle. What I didn't say is that, even though she won't be able to romance all of them, Kionna will encounter several princes depending on which route you're reading. So I figured it would be nice to be a little more familiar with those dreamboats~
Minor spoilers ahead: the setting and characters of the route are revealed.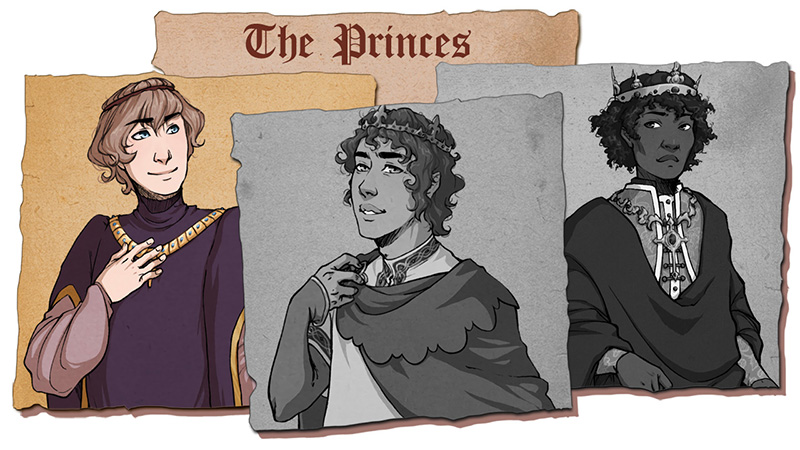 First in line is Griselde, the prince of the B1 and B2 routes. Though he appears in both of them, B2 is really where he shines! He's a rather handsome man and a talented one at that: he's especially good at horse riding, hunting and training animals, for example. Elegant, refined, he knows how to declaim poetry just as well as he knows how to woo the ladies around him. In short, he seems like prince charming incarnate. But can anyone really be that perfect?
This time, instead of hiding away in the countryside, the princess decides to go directly to his castle in order to approach Griselde. However, she still has to keep a low profile if she doesn't want her father's men to find her. That's how she pretends to be a retainer and is hired by Berthe, the head chef, who takes her under her wing. In her new life, Kionna will be able to choose between different types of chores and use her free time as she sees fit. But her secret objective is still to meet the prince.
This route is less linear and slightly bigger than the previous one, plus it's packed with fairytales references, so it's probably one of my favourites in terms of balance. Some things do escalate quickly though~

Just as with the rest, we still need to do a quality check. There's also a short sequence missing because we didn't have the right background ready at the time. It'll be added when we'll finish both the C1 and C2 routes.