The whole Träumendes Mädchen team is very proud to announce that we'll be at Japan Expo 2014 from 2nd to 6th July !
For a long time we were hoping to come at a convention in an official way and that's now a reality. You'll be able to find us at our booth to discuss our various projects, chat or enjoy our fabulous artists : our composer will improvise some music and many designers will do little illustrations on request. If you're passing by, go visit us, we'll be very happy!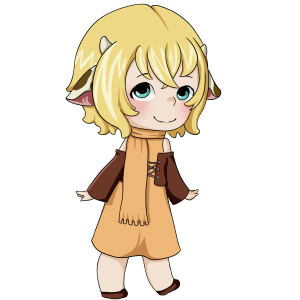 Those who read How visual novels changed my life, our recent Nanoreno project, must have understood by now but we're planning to come to japan Expo with something for you. Indeed, as exhibitors, nothing would please us more than to offer our fans some goodies. The thing is, we're too poor to afford it by ourselves, that's why we teamed up with Atelier Dreamnoid and Enless Seasons, two others visual novel creators, to gather our ressources. With the help of Projet Saya who kindly proposed to take care of logistics. We just launched an Indiegogo campaign to collect the funds we need to go to our first convention together.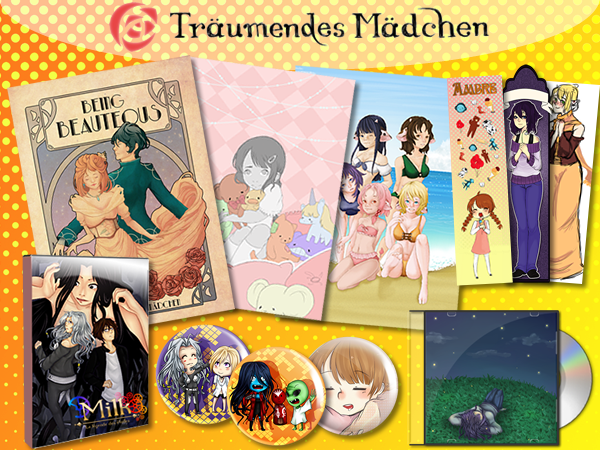 Here, at Träumendes Mädchen, we'll be offering some goodies : three designs for posters, three design for pin-badges and three designs for bookmarks (the last one isn't finished yet) for our different games (Being Beauteous, Ambre and Milk). There will also be a music album composed by Roganis (we'll be showing the tracklist sometime soon) as well as physical copies of the first three episodes of our visual novel Milk. This edition will feature technical improvements over the online version, a new illustration for the main menu and the exclusive episode 3! Indeed, the lucky owners of the physical version will have access to the story as soon as early July while the others will have to wait until the end of summer.

If the initial goal is met before the end of the campaign, we'll be offering even more choice! With the first stretch goal, we're going to produce a re-mastered compilation of our short projects with improvements here and there : How visual novels changed my life will include additional scene with new extra illustrations, the translation of Ambre will be enhanced and we'll redo some of the backgrounds, where Being Beauteous will receive a new GUI (with some graphical enhancement if we still have the time). And with the second stretch goal, we'll have twice as much goodies to offer!

So, if you liked our work or if you want to support the western visual novel creation, don't hesitate to pre-order on our Indiegogo campaign, even if you're not coming to Japan Expo : we're shipping products, with additional fee sadly. Even the simplest donation will be helpful. The whole team is counting on you ;).