Träumendes Mädchen's online store has been open for two months now. In order to celebrate, I've decided to put on a great spread!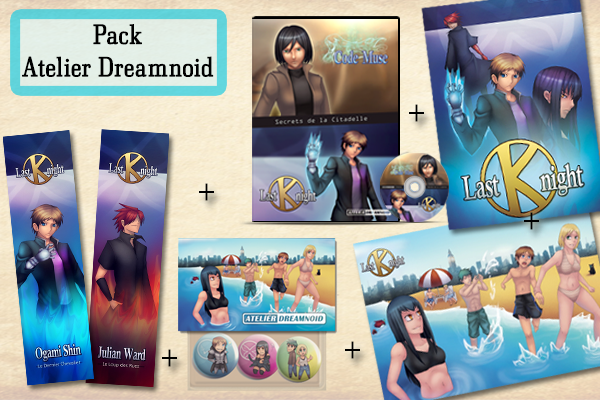 To begin with, we're going to add on sale a special pack in partnership with Atelier Dreamnoid. This pack will only be available on our store for 3 weeks and includes:
A hard copy of the Secrets de la Citadelle compilation that gathers an enhanced version of the game Last(K)night, as well as Code Muse.
A bag of Last(K)night goodies, including a set of 3 buttons, 2 bookmarks and 2 postcards.
For 15$, you will be able to enjoy those urban fantasy titles inspired by Typemoon (Fate/stay night) and Nitro+ (Phantom of Inferno). Sadly, they're both only in French and there's no translation available for now =(. But Atelier Dreamnoid also made a free visual novel in English called 25Prism and it's quite good, so I recommend to check it out!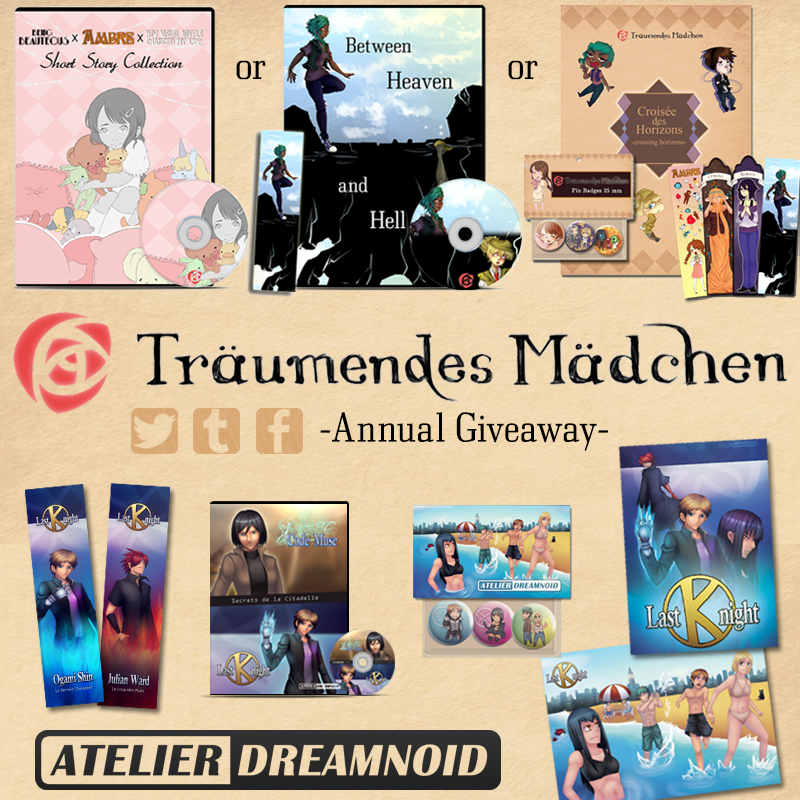 But we won't stop here: in addition to this partnership, we're also doing a big giveaway with even more stuff to win than last time!
The principle is rather simple: in order to have more winners, we're going to spread the giveaway on three different social networks (Facebook, Tumblr et Twitter). You only have to follow us and relay the announcement that will be posted every Monday on the right social network. Once the week goes by, a winner will be chosen randomly and we'll go on the next social network. That way, if you missed a date, you can still catch up with the following week!
If you're selected, you will be able to choose between a visual novel hardcopy (Short Story Collection or Between Heaven and Hell) or a bundle with our Crossing Horizons artbook, 4 bookmarks and 3 buttons. Sent for free to your house. Not bad, don't you think?
And since, we're very generous, there's even a consolation prize for our French readers (Atelier Dreamnoid packs)!

So pay close attention and let's meet as from tomorrow for these 3 weeks of giveaway~