We're there, all het up and it's finally official: pre-orders are available! The Träumendes Mädchen team will be at the Japan Expo convention in Paris from 2nd to 5th July (booth L52, Hall 6) with a sack full of things. In order to celebrate that, here's a description of our new products.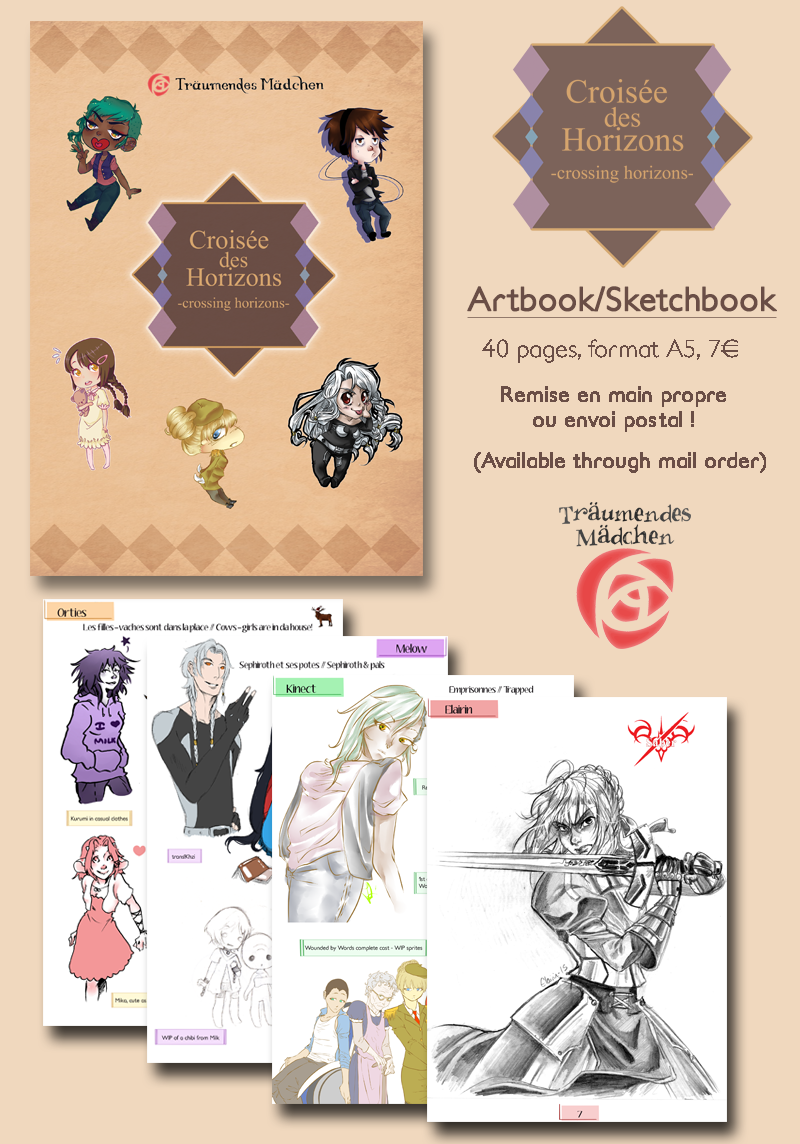 The Crossing Horizons sketchbook will be in A5 format and will include around 40 pages shared between all the artists on the team.As you might already notice on this preview, there is a little bit of everything: fanarts from visual novel (japanese or western), illustrations of our own games (abandoned sketches we never showed or new ones drawn for the occasion), sometimes in black and white, sometimes in ful color, digital or traditionnal. In short, a joyful jumble overflowing with passion! If Elairin, Kinect, Melow and Orties are in the spotlight, Morsy and Laniessa also offered a contibution and we're really happy to count a small Guest Art section as well at the end of the artbook. All to say we put our heart in it and we hope you will enjoy the result!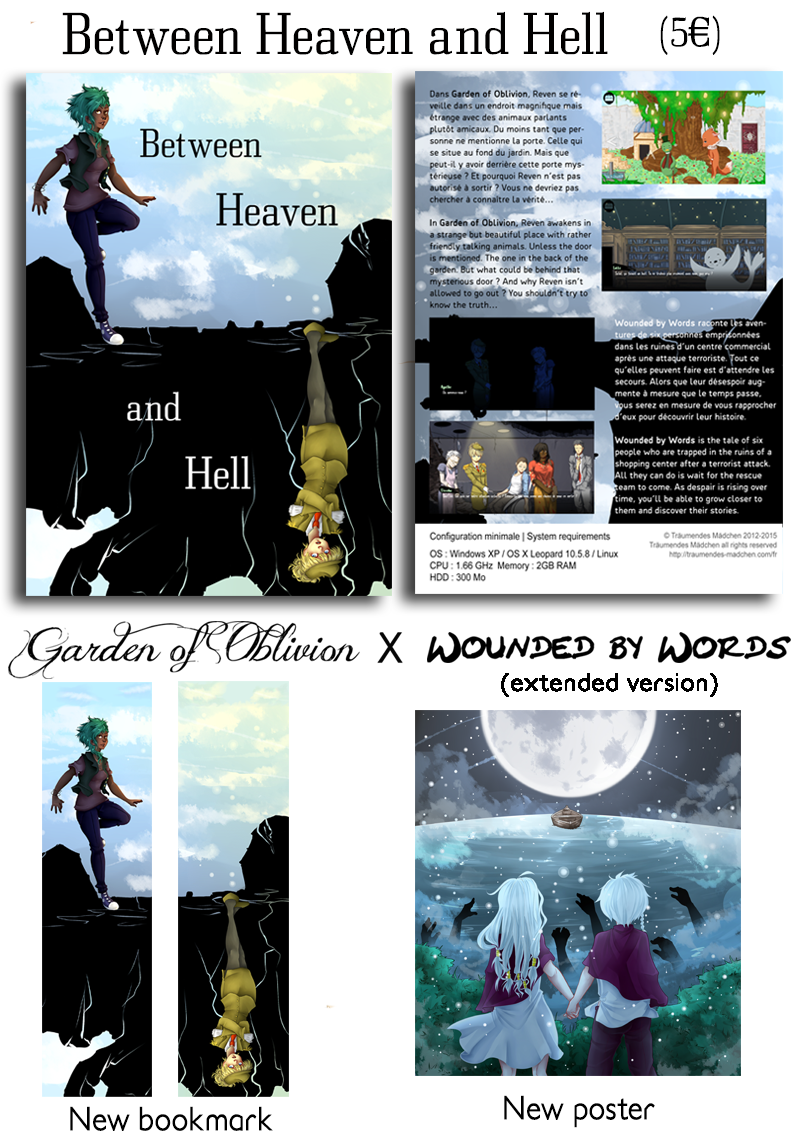 The new hard copy, named Between Heaven and Hell, will include a compilation of Garden of Oblivion and Wounded by Words.Translation of the original content in French is almost finished so I'll be able to write the new content for WbW extended version pretty soon (after story for each route and unlockable epilogue)…as well as the secret bonus. We also have two new merchandises: a bookmark and a poster!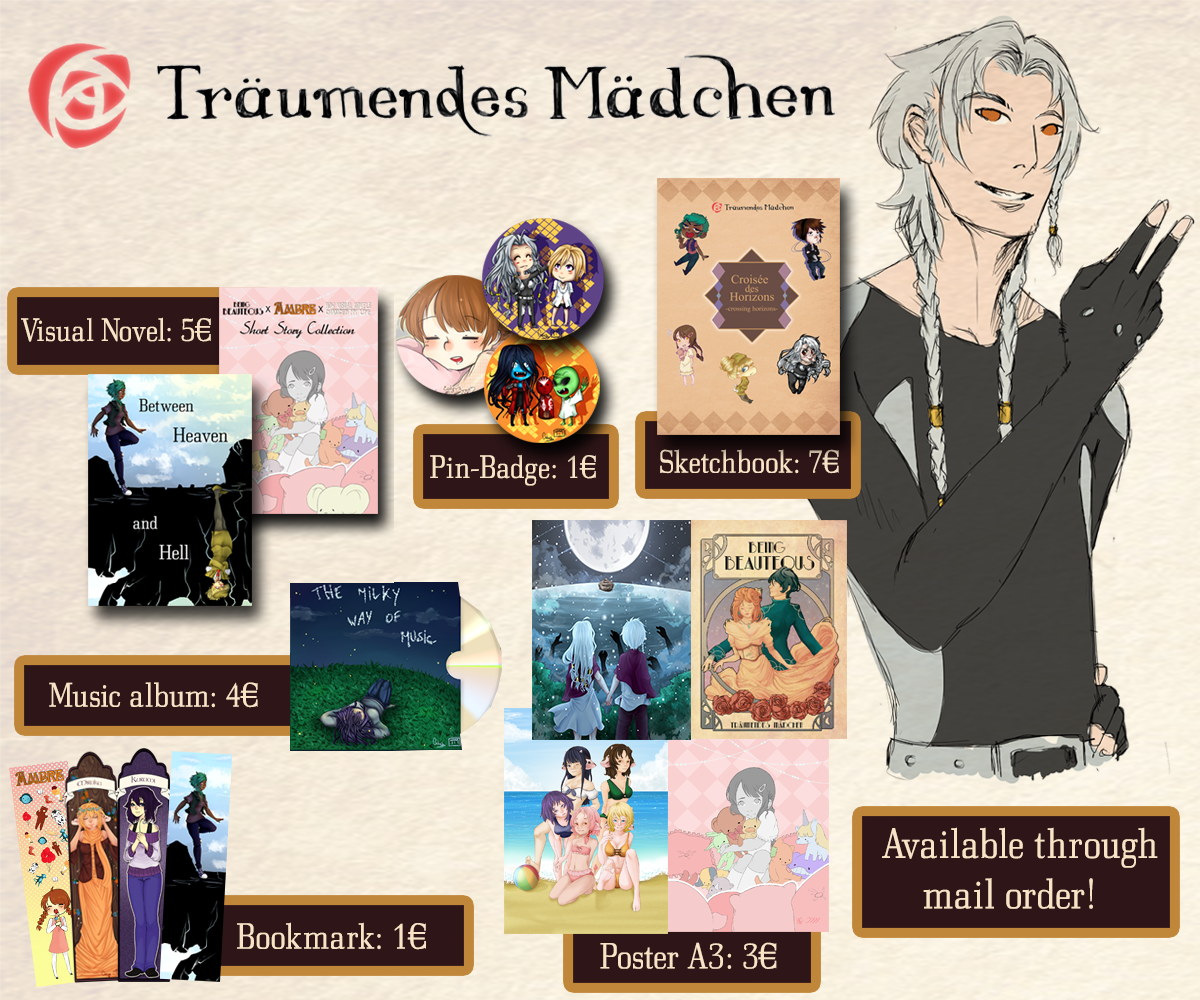 Since most of you can't attend a French convention, we're experimenting a mail order system to allow you to buy all our goodies ! Nothing more simple than ordering:
_send me an email at traumendesmadchen@gmail.com with « Preorder » as a subject
_add you complete adress so that I can send you everything properly. Be careful though, there will be shipping fee and the farther you live from France, the more expensive it will be (can't do anything about it sady =/)
_and don't forget to tell me what you want to buy, of course!
We only accept Paypal payment (same email). And don't worry about the change, I'll do that for you and tell you exactly how much it cost (but FYI 1€ = 1,12$).
So that's it, thanks for the constant support, we wouldn't be able to do all that without you!